Climate change, sustainability, and environmental issues have been at the forefront of the conversation more than ever in recent years.
Perhaps the sense of urgency has risen so much so quickly, or environmental awareness, permaculture, regenerative agriculture, and hemp are showing us better ways forward. Weaved together by filmmakers, celebrities, farmers, hemp industry business leaders, Netflix's Kiss the Ground explores the role regenerative agriculture plays in addressing sustainability, health, poverty, and climate issues in our near future. Narrated by long-time hemp and Hempy's supporter Woody Harrelson, this feature length documentary explores our current agricultural crisis and its effects on soil, the environment, and our planet's overall ecology.
Woody Harrelson and Kiss the Ground…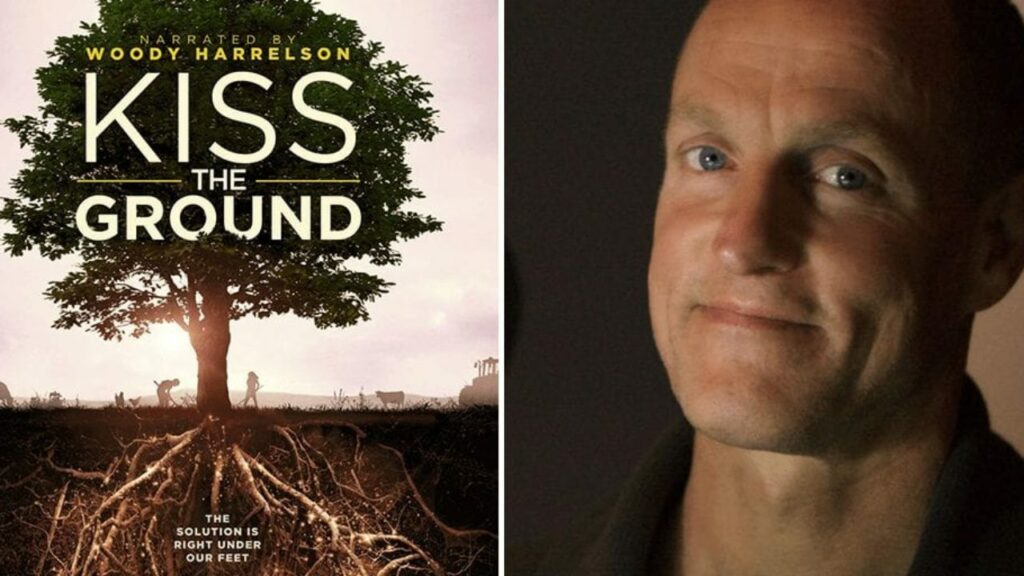 Directed by Rebecca Tickell and Josh Tickell, the documentary features a star-studded cast, including Woody Harrellson, Jason Mraz, Gisele Bündchen, Ian Somerhalder, and David Arquette. Kiss the Ground was produced by Big Picture Ranch, a studio aimed at creating a narrative of awareness around rising environmental issues. Woody Harrelson has been outspoken about his advocacy for hemp, and helps deliver a needed message to a more conscious generation. Watch the trailer here!
Bringing such issues to attention was made possible by the collaborations of such advocates, as well as the Kiss the Ground nonprofit organization based in Los Angeles. The organization has helped educate and develop awareness around the extraordinary benefits of having healthy soil, through its Media Program, Farmland Program, and Stewardship Program. It is through such efforts that the benefits of regenerative agriculture can reach the masses.
Industrial Ag vs Regen Ag.
We live in a consumer-centric world and modern farming practices have evolved to accommodate. Of course, this comes at a cost, one that our ecosystem pays for. Industrial agriculture is the large-scale production of crops and animals. Often, chemical fertilizers or pesticides are used on crops, and antibiotics in animals to ensure they don't get sick. Many of these harmful chemicals find their way into our food, our bodies, and water supply. Genetically modified plants, mistreated animals, and depleted land are results of such practices, which have gotten worse over recent years.
Regenerative agriculture focuses on protecting soil, empowering new farmers, and ensuring animal welfare. It can help reverse the negative effects of climate change, produce healthier soil, and lower our overall carbon footprint. Regenerative agriculture lets us produce high quality and nutrient dense food while improving the land it's growing on. Such practices can help decrease emissions, slow or reverse climate change, improve crop yield, feed the hungry of the world, and create better soil for future use.
The Importance of Soil Health…
One clear forerunner in the world of regenerative agriculture and healthy soil has been hemp. Industry experts have acknowledged that hemp could be crucial in mitigating the global climate issue. Hemp is an easily grown and farmable crop that contributed to healthy biodiversity and can be used to make a number of useful products. Used as a cover crop, hemp helps prevent weed from growing, lowering the need for chemical herbicides, while adding diversity to crop rotation and improving overall soil health. Hemp grows with less of a water need than comparable crops and grows faster than trees, which are used to make paper. In fact, hemp has a number of uses, making it a great candidate to grow at scale. Hemp can be used to make paper, food, fibers, textiles, rope, clothing, building material, or therapeutic oils. The entire plant can be used, from the roots to the seeds, stems, oils, and leaves.
Hempy's Promise.
Long-term sustainability is one of our core values, and by focusing on renewable sources, we are able to bring you ethically-produced plant inherited goods. Hempy's is proud to be part of the regenerative agriculture movement and aims to use and source U.S. manufactured hemp for its quality hemp goods, apparel, and accessories in the near future. Hempy's is locally owned and operated, globally-minded, making sustainable, healthy decisions to move forward because hemp can help save the world!
About Hempy's
At Hempy's we believe we can make beautiful, sustainable, and healthy hemp clothing while being a force for positive change on the planet.
‍
We have been making clothing out of hemp since 1995, Like our world-famous hemp t shirts, long before the hemp plant went mainstream. Our quarter-century-long history as a hemp clothing brand has given us a special perspective on the special qualities of the hemp plant and its potential to bring us together and heal the planet.