As I waded through Salt Creek Hemp Company's field of sturdy, vibrant hemp plants last weekend, I harbored not a single doubt that this plant has a strong future with U.S. farmers. As I walked through the various exhibits in the horse arena at Hemp on the Slope, eating my hemp ice cream, it was clear to me that the innovative minds of American engineers and product developers will continue to produce sustainable, practical and beautiful products made from hemp. We have all heard the hard facts (and the not-so-hard "facts") about hemp, the miracle plant, but hearing the actual experience from the farmers who are out in the fields with the plant every day brings new life to the story. It is inspiring to hear from growers like Aaron at Salt Creek. Aaron controls the headwaters of a local water source, and told us about how thrilled and astounded his neighbors are about how much water he was able to send downstream this year, since he was using so much less for his new hemp crop. It's inspiring to see this plant beginning to get its due after more than 70 years of being relegated to the DEA enforced shadows. Yet, there is still a long way to go.
WHY DOESN'T HEMPY'S BUY DOMESTIC HEMP? 
Farmers and hemp enthusiasts of all strands are jumping into the waters of legal hemp head-first in places like Colorado and Kentucky. People are excited, as evidenced by the folks who came to talk to me this last weekend about HEMPY'S. The most common question I was asked, and that HEMPY'S has been asked for a while now, was, "when will you start buying your hemp from domestic farmers?". I found myself explaining to folks some facts that are apparent from the manufacturing side of the business, but that aren't necessarily common knowledge for others in the industry. In short, in the last 70 years of hemp-empty America, we lost our ability to actually process the plant into a manufacturable substance. We are starting to grow hemp again, yes, but we don't have the infrastructure to turn it into finished product, so right now farmers are reliant on selling seed to Canadian companies and have no idea where to sell the fiber and hurd to be produced into other products, like cloth.
Back in the 19th century, we made the majority of our paper out of hemp, during World War II, the government pushed farmers to grow hemp for soldier's uniforms, and for centuries sails and rope for the navy and other ships were made of hemp. Historically, hemp has been grown in the U.S. for its pulp and to make textiles. So, it's no surprise that when folks think about growing hemp in the 21st century, they think about cloth. The fact is, however, that cloth is one of the hardest products to create from hemp, and that the United States has a long road to catch up with China, which has all of the infrastructure for "farm to finish" hemp textile manufacturing. But there is another route for us to pursue in hemp manufacturing that can bring immediate benefit to U.S. farmers and strengthen the U.S. hemp industry. The hemp industry in the U.S. can and should focus on processing the hurd to be used in composite plastics, building materials and other durable products like car door panels. Right now, hurd is the missing link.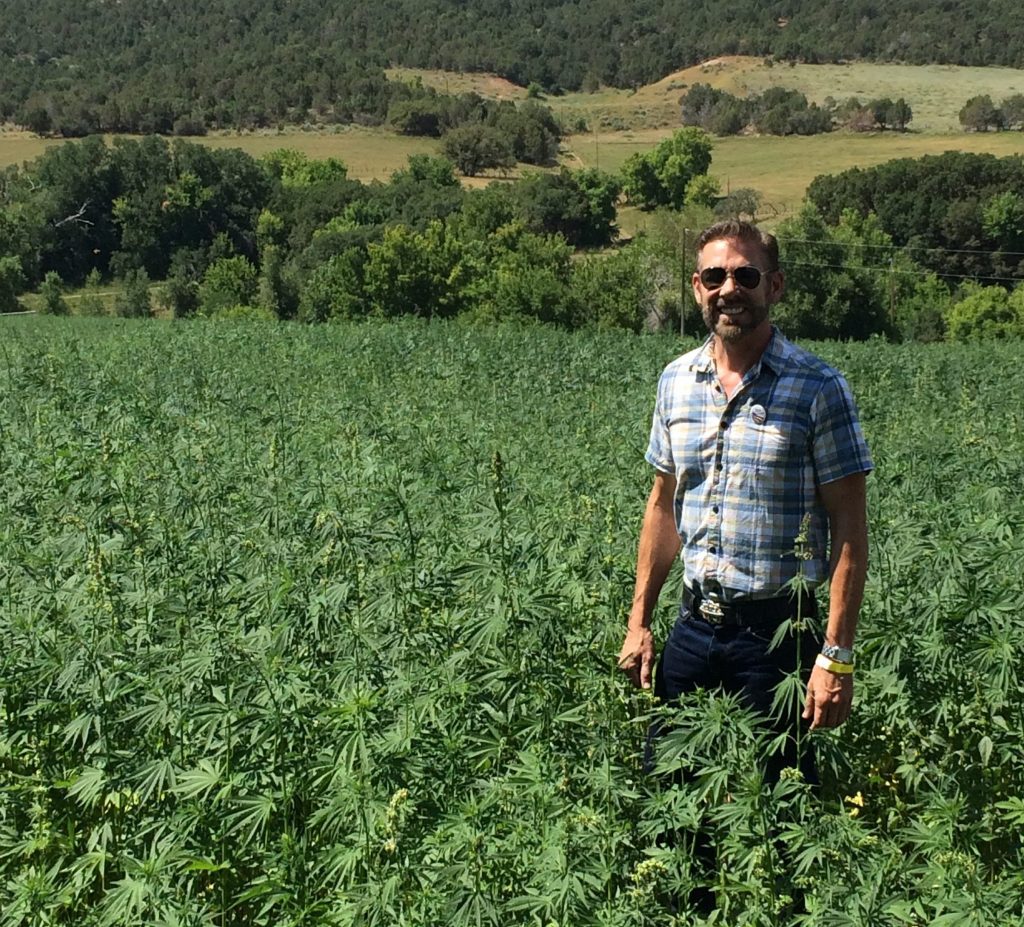 Kenneth standing in Salt Creek's beautiful hemp field
PROCESSING HEMP: SEED, FIBER AND HURD
One of the speakers at the conference, my friend Barbara Filippone from EnviroTextiles, spoke about this exact issue. She laid out a step by step process of what needs to happen with hemp manufacturing in the US before we can fully utilize our domestic crop in domestic manufacturing. First of all, it's important to understand that there are three main parts to the hemp plant. There is the seed, which is a nutritious food that can be pressed into oil or eaten raw in all kinds of cuisines. The hurd, the stocky, woody center of the plant, can be used to make everything from paper to composite plastics and building materials. Finally, there is the fiber, also called bast fiber or the bark of the plant, which can be used to make textiles, twine, rope and many other products. Currently, we do not have the domestic capacity to process any of these parts of the plant. Here is a quick synopsis of these three parts, as they relate to the U.S. industrial hemp industry.
SEED. The seed is perhaps the least of our problems, because it can readily be sold for a good price to Canadian companies just over the border. They have the infrastructure to hull the seed, press it into oil, and to create a variety of great, food grade seed products. Seed processors are poised to open plants and begin processing U.S. farmer's seeds in the U.S. as soon as there is a critical mass of available seed. The hurd and the fiber, however, are not so simple.
FIBER. Hemp fiber cannot be shipped to Canada, because they don't process it there, and it cannot viably be shipped to China where they do have the capacity to process it, because they have enough hemp of their own. So why not just build the means to process the fiber domestically? It's not so easy. The steps for manufacturing hemp fiber into textiles is a complicated and costly process. Such an operation would require multiple factories, as many as six different plants to fully produce "farm to finish" fabrics. Separate factories are required for inspecting the fiber, separating it out into different lengths, weaving, dyeing and finishing and sewing. Barbara estimates that all of the fixed capital for this process would cost around three hundred million dollars. Another wrench in the production process for hemp fiber is that it requires a lot of hemp to be grown, as only about fifteen percent of the plant is fiber, and that percentage decreases with production. We would need to grow far more hemp in this country before it would be viable for anyone to invest in domestic hemp textile manufacturing.
HURD. Processing the fiber is prohibitively difficult at this moment, but what we can do is focus on the hurd, the stocky center of the plant. No one in North America has the capacity to process large amounts of hemp hurd at the moment, but we are not far off. If, from the get go, US hemp manufacturers can focus on this aspect of hemp processing, they can take advantage of a market with fewer barriers to entry and less international competition. It would just take three, straight-forward steps to get hurd from the farm to a sellable product.
The farmer harvests the seed in the Fall, and leaves the stalk standing through the winter. This "rets," or separates, the bast fiber from the hurd.
A company comes in with a portable "decorticator" on a flat-bed truck, which strips the fiber from the stock and bags the hurd. Or, local farms can band together into regional co-ops to purchase fixed decorticator machines.
The hurd is hauled to a processing center where it can be standardized as specified by the customer.
This may sound like a big production process, but it could all be arranged for less than three million dollars, and some companies have already started to produce parts of this production line. If the U.S. hemp industry can focus on processing the hurd, everyone would benefit. Farmers would have a place to sell the huge amounts of hemp stock they collect after selling the seed, which will immediately make growing hemp more profitable and will begin to build a very strong supply chain for hemp products in the U.S. If this happens, more farmers will switch from corn and other crops to hemp, and we will develop the technology and infrastructure for processing fiber much quicker.
HEMP HURD FOR VICTORY!
So, to reiterate: farmers can sell their seed right now, we are not far away from domestic capacity for processing hemp hurd, and we are quite far away from being able to process hemp fiber. Does this mean that farmers shouldn't grow hemp? Not at all! Hemp is still a profitable and sustainable crop, even if farmers are just selling the seed. However, it becomes far more profitable if we can grow a "duel crop" and farmers can sell both seed and hurd. Domestic markets for hurd are going to come soon, and eventually, I am confident, there will be a domestic capacity for processing hemp fiber. In my opinion, having someone who will purchase the hurd from the farmer and refine it into different specifications that are ready to sell will do far more to promote hemp in the U.S. than almost anything else. So, to answer that oft repeated question from the weekend: HEMPY'S will be so excited to buy our cloth made from hemp grown domestically, as soon as there are factories refining and milling hemp into fabric for us to use. In the meantime, we will remain on the forefront of this movement, working with other companies and enthusiasts to make industrial hemp a reality in the USA through education, innovation and collaboration.
I want to thank Margaret Richardson, Aaron Rydell and Joe Koeller at Salt Creek Hemp Company for inspiring us all with their pioneering acres of hemp, and I want to thank all of the other great companies that helped to make Hemp on the Slope a success!
Cover image taken from a 1916 pamphlet by Lyster Hoxie Dewey and Jason Merrill via Wikimedia Commons